Recordings by John & Kathie Hollandsworth and Mountain Fling

Each of our recordings includes instrumental and vocal selections of our most popular and requested tunes. The three Mountain Fling recordings feature John, Kathie, Jim Lloyd and Ed Ogle, in a band we played with from the late 1980s to 2015. On the others, we included even more of our friends and family members. Click here for a handy order form so you can enjoy our recordings at home or on the road!

WHERE THE MOUNTAIN BREEZES BLOW
Mountain Fling (2011)
CD only - $15

A mix of traditional songs and tunes, plus three original songs, played in fine acoustic style by John (autoharp & guitar), Kathie (bass, hammered dulcimer), Jim (banjo, guitar, and mandolin), and Ed (harmonica, guitar, and vocals). Includes Evergreen, Big Rock Candy Mountain, Black Maria, Forked Deer, The Ship that Never Returned, White Rose Waltz, Rabbit in the Log, Take Me Back, Jenny Lind Polka, Nick Winn Hollow, I'm Too Young to Marry, Golden Slippers, My Baby's Gone, and Where the Roses Never Fade.
| | |
| --- | --- |
| | TUNES FROM THE TAILGATE (Mountain Fling, 2004): CD only. $15. A wide variety of tunes played in the old-time style by John (autoharp & guitar), Kathie (bass, hammered dulcimer, and vocals), Jim (banjo, guitar, bass, and vocals) and Ed (harmonica, guitar, and vocals). Includes John Lover's Gone, Home by the Sea, Don't Let Your Deal Go Down, Come Dance and Sing/Red Haired Boy, Poor Orphan Child, Wreck of the 1256, Captain Kidd, Angelina Baker, Otto Wood the Bandit, Copper Kettle, Country Waltz, Whiskey Mountain, Take Me Out to the Ball Game, If I Lose, and When I Grow Too Old to Dream. |
| | |
| --- | --- |
| THE GREEN FIELDS OF VIRGINIA (John, Kathie & Friends, 2002): CD only. $15. We asked many of our musical friends and family members to help on this recording. The 17 cuts include 'Mid the Green Fields of Virginia, The Cuckoo, Shepherd's Wife's Waltz, The Bells of St. Mary's, Don't Say Goodbye If You Love Me, Star of the County Down, Liberty/Nail that Catfish to a Tree, Believe Me If All Those Endearing Young Charms, Blue Bell, The Fugitive's Lament, Darling Corey, Shamus O'Brien, Old Joe Clark, Wind and Rain, Cluck Old Hen, Just a Closer Walk with Thee, Amelia Earhart's Last Flight. Musicians include Jim Lloyd, Ed Ogle, Tim Sauls, Steve Kilby, Sidney Hollandsworth, and Lane Hollandsworth. | |
| | |
| --- | --- |
| "Up Close and Personal" is a compilation of songs, interviews, and written music from 10 of the autoharp's greatest living masters. Each performance can be viewed from 3 angles and at 3 speeds without losing any quality, so you can study how they do what they do! This landmark DVD is $30. John performs his signature tune "Listen to the Mockingbird" and other legendary players are Karla Armstrong, Evo Bluestein, Bryan Bowers, Cary Dubbert, Mike Fenton, Lindsay Haisley, Karen Mueller, Drew Smith, and Ivan Stiles. | |
| | |
| --- | --- |
| | OUT OF STOCK: AUTOHARP LEGACY (2002): A three-CD set for only $20 with booklet that features 55 of the world's best-known autoharp players, including John, with Nashville studio musicians rounding out the mix. Produced by Cumberland Records, the set has become a standard for those wishing to sample styles from autoharp players throughout the globe. John's cuts include "Listen to the Mockingbird" and "Remington Ride," with Sam Bush on mandolin. |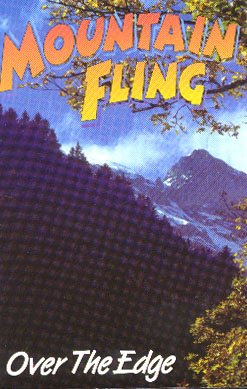 OVER THE EDGE (Mountain Fling, 1995): CD ($15) or cassette ($5). Our first all-band Mountain Fling recording with Jim and Ed. Includes The Baltimore Fire, Yellow Rose of Texas, Snow Deer, Sugar Hill/Rock the Cradle Joe, San Antonio Rose, Bluebird Song, St. James Infirmary, Ragtime Annie, When the Roses Bloom in Dixieland, Alabama Jubilee, Just Because Medley, and Anchored in Love.John (autoharp), Kathie (bass & vocals), Ed (harmonica, guitar, & vocals), Jim (banjo & guitar)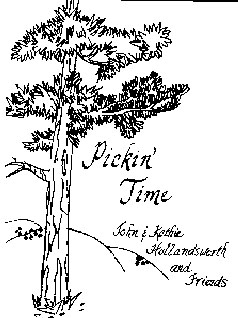 PICKIN' TIME (John, Kathie, & Friends, 1990): Cassette only, $5. Includes Wreck of the 97, Hewlett, Trail of the Lonesome Pine, Bully of the Town, Far Away in Australia, Victory Rag, Peach Pickin' Time in Georgia, Down Yonder, Ninety-Nine and Ninety (unaccompanied ballad), Soldier's Joy, Hard Times/Year of Jubilo, My Name is Morgan (but It Ain't JP). John (autoharp), Kathie (vocals, bass, hammered dulcimer), Jim (guitar, banjo-mandolin), Eddie (harmonica, guitar), Dempsey Patton (guitar)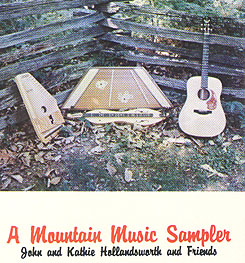 A MOUNTAIN MUSIC SAMPLER (John, Kathie, & Friends, 1988): Cassette only. $5. Includes Listen to the Mockingbird, Billy Richardson's Last Ride, Nelly Bly/Old Joe Clark, While the Band is Playing Dixie, Cherokee Shuffle, Wild Hog in the Woods (unaccompanied ballad), Goodbye Liza Jane/Little Liza Jane, Staten Island Hornpipe, Shady Grove, Cluck Old Hen, Nelly Gray, Red Wing, Si Beag Si Mor/Haste to the Wedding, and Jesse James. John (autoharp & lap dulcimer), Kathie (vocals, guitar, hammered dulcimer & bass), Dempsey Patton (guitar), Caroline Patton (harmony vocals), Jim Lloyd (guitar), Ed Ogle (harmonica), and Les Dotson (mandolin & banjo)
Back to Blue Ridge Autoharps Home